Watch David Nalbandian Kick Linesman in Queens Finals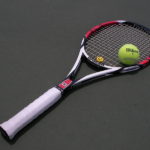 On June 17, 2012, David Nalbandian was playing in the Queens Finals tennis match. He was not happy about what happened and hauls off and kicks the lineman judging the match. He kicks the box so hard, boards fall down, and he even makes the guy bleed.
It looks like he obviously kicked it on purpose. Now he probably didn't mean to make the guy bleed or hurt him, but he let his feelings take over which messed everything up for him. This could even ruin his career.
Yahoo Sports is reporting that he was fined $12K and could end up getting charged with assault. He also lost $57,000 in prize money for the assault on the linesman.
Here is what David Nalbandian had to say:
"Sometimes you get very frustrated on court and it's tough to control that, and sometimes I do a mistake. So it's very tough to end a final like that," he said. "I agree I do a mistake but sometimes everybody do a mistake and I didn't feel it had to end like that, especially in a final."
What do you think of his actions? Do they shock you? David Nalbandian ended up being disqualified for the way he acted on the court.