Maci Bookout of 'Teen Mom' Releases New Book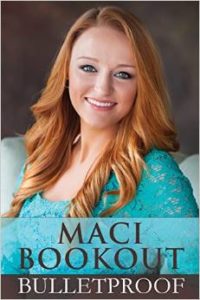 Maci Bookout of "Teen Mom" is now putting out her new book "Bulletproof." It is actually available to order on Amazon now for pre-sale, but it doesn't come out until July 21, 2015.
This book is said to be all about how Maci took control of her life and took care of her son Bentley. The book starts before she met Bentley's dad and goes on into when he was a few years old. You will get to know the true Maci in this book and find out what made her the person that she is today.
So far this book is only showing in Hardcover version. Hopefully "Bulletproof" comes out with digital versions as well because fans of "Teen Mom" can't wait to hear what Maci Bookout has to say. Make sure that you click the link above to get the book!