Review: KidsGold -14k for Kids Earrings For A Great Christmas Gift
Recently I got the chance to review KidsGold -14k for Kids earrings, and I couldn't be happier! The earrings that I got were in my daughter's birthstone, which is emerald. She is eight-years-old and has really sensitive ears. Some earrings will start to bother her within a few hours of putting them in.
These 14k gold earrings didn't do that at all! She was able to wear them all day yesterday and then took them out to sleep. Today she was ready to put the KidsGold earrings right back in her ears again. They look great and don't bother her ears, so I love these earrings.
If you are interested in ordering these earrings, you can check them out on 14k's website. I even have a discount coupon that you can use before Christmas! A 20% Off Store-Wide Sale will be offered exclusively to your readers from Nov.1 – Dec. 31, 2016. The coupon code to be used at checkout is: USFG20.
I felt like the way the earrings came in was adorable and perfect for gift giving. The picture below shows just how they were delivered.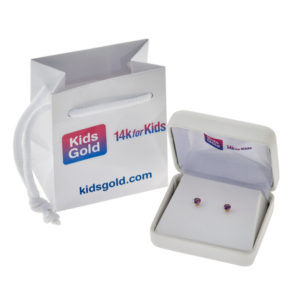 If you are looking for a great stocking stuffer or gift for a young girl, then I would highly recommend these Kids Gold from 14k for Kids. I may have to order here more soon since she loves them so much!
Disclaimer: I received these earrings for free in exchange for a review, but the opinions here are my own.