Check Out This Offer For a Free 12X8 Canvas
I love pictures and putting them up in our house, but I have to admit I am terrible about spending money and getting them ordered. I have found a great way for you to get a free canvas for your house from Canvas On Sale. I know I am excited to check them out!  I just got a free 12×8″ canvas print, and I am allowed to share this with you!
FREE 12×8 Canvas Print! – All you need to do is to click the website link http://www.canvasonsale.com/congrats/ , upload your favorite picture, choose 12×8″ canvas and enter the voucher code from the website in the basket. This would make a great holiday gift if you don't need one for yourself.  You do have to pay for shipping, but the canvas is an almost $50 value, so this is still a great deal. You can even share this deal as well.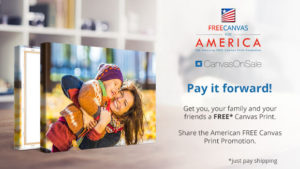 So what kind of canvas will you get made? I am thinking we need some of our family pictures we got done on our cruise in February that I never got made into something. Let me know in the comments below if you need up ordering your free canvas from Canvas On Sale.
Disclaimer: I am getting a free gift card in exchange for this post, but the opinions are my own.