Experience Of a Lifetime at Moody Gardens Ice Land 2016
We recently got the chance to go to Moody Gardens in Galveston, Texas and this was an experience that I will never forget. Honestly, I had no idea how much stuff they had to do there! Ice Land was my favorite thing for sure. You go into a huge tent that is kept freezing cold full of ice sculptures. They actually have a webcam set up where you can see it for yourself on the Moody Gardens website. Ice Land is open from November 12, 2016 – January 8, 2017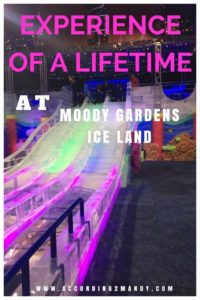 When we got to Moody Gardens, we found a parking spot and went in to explore. They have a zip line and ropes course, but it was closed down that day. We started out in the Rainforest Pyramid where it is just like walking through the jungle. We saw monkeys, fish, birds and even bats just walking around like they were in the wild. I have to say my favorite other than Ice Land was the Aquarium Pyramid where you could walk under a tank full of fish and sharks plus we got to see penguins. They are doing a lot of renovations in this area, so I can't wait to see it all once they are done!
When it comes to Ice Land, you have to pick out a time to go in and you will head in with a group of people. You are even given a parka to wear as you go into the freezing cold temperatures. They used over two million pounds of ice to make the sculptures inside Ice Land. The site describes it saying, "Imagine, a towering oil rig ice slide takes you to the breathtaking Flower Garden Banks and the Gulf of Mexico as you encounter spectacular schools of beautiful tropical fish, eagle rays, turtles, dolphins, hammerhead sharks and more on your way to your island destination!" I couldn't explain it better myself!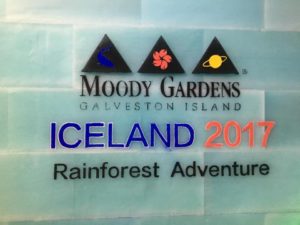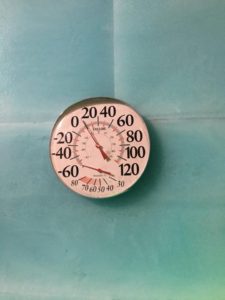 Honestly, Ice Land at Moody Gardens in Galveston is one of the best things I have ever done! I have seen an ice sculpture here and there, but I have never seen anything like this in my life. Imagine sitting down and going down a slide made entirely of ice after walking through a submarine made entirely of ice. You can't do something like this anywhere else!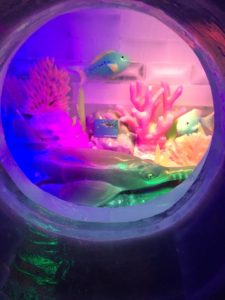 There are a few other great things at Moody Gardens as well. Right now for the holiday season they have a 4D theater where you can watch "Rudolph the Red-Nosed Reindeer" and the Festival of Lights for Christmas. They even have ice skating, an arctic slide and more! If you are going to Moody Gardens, make sure you have an entire day to spend there so you don't miss out on fun things such as the "Spongebob Subpants Adventure" show and the Colonel Paddlewheel Boat.
Have you ever been to Ice Land at Moody Gardens? If so, sound off in the comments about what you thought and if you haven't make sure you check it out!
Disclaimer: We received free tickets to Moody Gardens in exchange for my review, but the opinions here are my own.