Magic In Mexico: Living In Colonia Santa Teresita
Hey According 2 Mandy readers! Check out this guest post from Carey Giudici all about the village he lives in Colonia Santa Teresita.
It's not surprising that so many of Guadalajara's 1.5 million residents would like to live in Colonia Santa Teresita—popularly called "Santa Tere." Santa Tere is like a box of chocolates: you never know what you'll discover around the next corner. You might come across a shop making fresh tortillas and intricate tile work on a private home's facade or any of these great things below.
The entrance to the local market cascading with fresh fruit; or neighbors on a side street's sidewalk happily engaged in Mexico's national pastime: building relationships.
A hole-in-the-wall taqueria run by a couple retired from corporate life to master the fine art of fish tacos, or a lady contentedly sweeping the curb by her doorway for the third time.
The coconut vendor with a wheeled cart who'll put a straw into a large fresh coconut; drink your fill of its juice so he can scoop out a bagful of sweet meat then sprinkle it with salt chili powder and fresh squeezed lime juice—a decent and healthy meal for just $1 50!
Passersby crossing themselves mid-conversation at the huge doors of Parroquia Santa Teresita church.
The sounds of salsa streaming down from the French windows of the neighborhood dance school.
The owner of a tiny bakery hidden in a side street who scoops "bolillos" from the earthen ovens her father built in 1947.
A trio of nuns in white habits hurrying back to their work at the San Jose optical hospital.
Burly business owners who stop what they're doing to help a pedestrian carry a five-gallon jug of purified water (costing under a dollar) through rain for the last two blocks home.
Art supply store owner Carlos Colmenero—who claims to have the only art store in Mexico that produces all its own fine art brushes.
The colorful and always crowded Sunday street market where an elderly Mexican named Hiroshi will serve up a platter of tempura made with his Japanese mother's recipe.
Street musicians wandering through the market and entertaining customers. Or
Dog owners who unleash their pets at a park anchoring one end of trendy Chapultepec Avenue.
Santa Tere reminds me of New York's Greenwich Village in the 1960s—a small town within a big city that's home to artists as well as laborers, office workers, and shopkeepers.
Its narrow streets average nine meters in width. It has a distinctive mixture of architectural styles, and most buildings are cemented with adobe.
This "barrio" was established in the 1920s on a large agricultural plot; each small block is about 60 x 60 meters in area. Larger lots were bought by local developers to create mini-neighborhoods with distinctive character and building styles.
Early residents included many workers attracted to the growing city by its many job opportunities.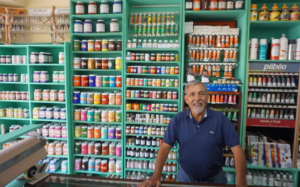 Then in 1933 Father Román Romo founded the parish of Santa Tere. This charismatic and "aggressive" priest built the imposing church and attracted theaters, cinemas and social events to nurture a vibrant new neighborhood social scene around his church.
Andale! Follow its booming church bells the next time you're in Guadalajara and make Santa Tere your home away from home too.
If you want to keep up with Carey Giudici, check out his blog, Twitter and Facebook.
[Pictures via Carey Giudici]