A Magical Arboretum In Word Pictures: Review of The Dallas Arboretum and Botanical Garden
Hey According 2 Mandy readers! Check out this guest post from Carey Giudici from his trip to Dallas!
The Dallas Arboretum and Botanical Garden, which covers 66 acres of prime city real estate, has been named "the best spot this side of Holland" to see beautiful flowers. In 2016, it welcomed over a million visitors eager to enjoy over 500,000 spring blooming flowers (almost 100 varieties) along with others in the summer and fall.
The "Tasteful Place" event is being set up overlooking White Rock Lake and a spectacular view of the Dallas skyline. It will fascinate anyone interested in nutrition and learning about the seasonal preparation of local fruits herbs and vegetables. That idyllic setting has also been the venue for a series of outdoor music concerts, sponsored by a major bank.
Kids of all ages can explore the intersection of science and nature at more than 150 interactive science exhibits in the eight-acre Children's Adventure Garden:
The "Plants Are Alive" exhibit helps children explore and discover how plants live and grow; the 32-foot Walk In The Clouds "bounce house" suspends kids over the wandering trail below; and a learning gallery named "Habitats" teaches them about the interconnections among people plants and animals.
Dallas' "best membership buy" offers annual membership plans, ranging from just $89 for individuals to $579 to Patrons.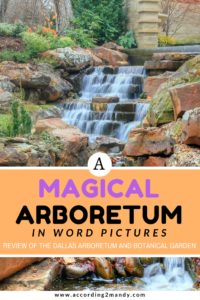 Here are some "snapshots" from a visit in early May:
* An employee named Maria in a floppy hat trims the lawn in "All-American Selections: Trial Ground and Display Garden": flowers for home gardens include blooming plants such as:
Light purple Cosmos
Yellow red and purple Dahlias
Switchgrass
False Inigo
Green-veined Brunnera
Tiny stemmed Coral Bells
Red purple and white Impatiens
Nandini
Tall red Canna; and
Sweet Williams
* Another bed is covered with undulations of pink Petunias.
* Further down the path a disheveled army of young students hides their wisdom from each other behind Dayglo T-Shirts and skips past seniors leaning into aluminum walkers.
* A candy-factory assembly line of azaleas teases everyone's sweet teeth with sweet colors.
* A single adolescent tree at the center of a lawn circle stares jealously at the crowded flower beds dancing just out of reach.
* Purple and yellow stripes of flowered edges resemble the neck of a college football jersey.
* Visitors appreciate never having to wait to see something in bloom.
* Tangerine, bright yellow and red French marigolds seem to bark back at the cloudless springtime sky, like a kennel full of tiny lap dogs.
* Tiny blue Lobelia blossoms and skirty yellow African daisies could be chasing each other around the edge of a fine china dinner plate.
* Ladylike steps of a stream's slender bed lace toward the lake.
* Nothing stands still—even the stones squeeze out little waves of water or fringes of garden soil.
* Shiny Giant Leopard leaves rustle against each other like curved coins in a collection plate.
* The Arboretum alphabet might be limited to S, I and a few Ts.
* A Dwarf Morning Glory is whimsically named "Blue My Mind."
* Lotus lily-like pads sparkle across a pond, like dance steps for a Buddhist master.
* White magnolia blossoms are little vases filled with sunshine and breezes.
* Neat serpentine pathways slip uphill from the lake, past rows of chatty trees and hedges.
* Lawns as gentle and serene as slumber placate flower beds as jumpy as disappearing dreams.
* A tiny black cat heads home through a row of bushes after shopping for a dead sparrow.
* A dozen carpets of crispy red wax begonias crowd each other in matronly arrays.
* After his shower in a circular fountain, an invisible giant has left a path of purple petunia puddle footsteps.
Have you ever been to The Dallas Arboretum and Botanical Garden? What did you think of this facility? Sound off in the comments section below on your thoughts.
If you want to keep up with Carey Giudici, check out his blog, Twitter and Facebook.
[Featured Image Via Wikimedia Commons]