Review: Pet Treater Is The Perfect Subscription Box For Your Dog
Disclaimer: I received a free Pet Treater box, but the opinions here are my own.
I am a pet lover. My three dogs are my babies and some days probably get treated better than my children. When I got the chance to try out a one-month subscription box from Pet Treater I was really excited! My furbabies loved the stuff in this box!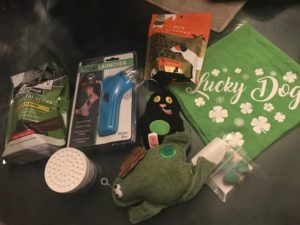 You can see above everything that came in our Pet Treater box! Of course, they loved the toys and wanted to play with them right away. It is only $24.99 for the box. It came with a cute bandana for the dog to wear, a few treats and a toy that launches treats into the air for them to catch. I was also really excited to get an air freshener to get rid of pet smells. Ever since I put it out, I really can tell a difference. The kids can't stop launching treats to the dogs and honestly anything else they can put in this toy and launch across the room.
As you can see in the picture above, Rosie loved her treats! We have three dogs and I actually split the Pet Treater box between them. If you had one dog, the treats would last quite a while. I love this subscription box and I think it is time to order another one to see what we get next!
With sites like this one and also Dog Product Picker which helps me choose the best products for my dog, I may never have to go to the store again for dog products and I am totally okay with that!
Have you checked out the Pet Treater box? What did you think? Let me know in the comments!