Win a Trip to Myrtle Beach! Check it out Here!
ENTER TO WIN AN OCEANFRONT CONDO or $50,000 CASH!
Win an Oceanfront Condo and Change Your Life! Vacation Myrtle Beach, one of the largest providers of family vacation accommodations in Myrtle Beach, SC, is pleased to announce the launch of The Great Myrtle Beach Condo Giveaway contest, which features the grand prize of a furnished oceanfront condo at The Caravelle Resort located in Myrtle Beach, SC, valued at nearly $100,000 (or $50,000 CASH, winner's choice)!!! Other lucky winners will receive a 7-night stay or a 3-night stay at one of Vacation Myrtle Beach's oceanfront properties.
The newly renovated, oceanfront efficiency condo offers room for up to four guests and includes a fully-equipped kitchen. In addition to its prime Myrtle Beach location, the resort provides convenient access to all of the area's major attractions, restaurants, and things to do. Families and couples enjoy a wide variety of on-site amenities including an indoor pool, a block-long poolscape complete with a large pool, whirlpool, lazy river, kiddie lazy river, kids' pool, poolside bar, and plenty of relaxing deck options. In addition to everything you need for fun in the sun, the resort offers an array of dining options as well as an opportunity for rejuvenation and relaxation at its on-site spa.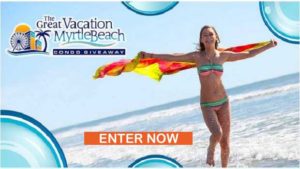 The Great Myrtle Beach Condo Giveaway sweepstakes is now open for entries.
For Official Rules and for more information about Vacation Myrtle Beach properties and deals, please go to https://woobox.com/hsfeoo?source=usfam