'Pretty Little Liars' Season 2 Amazing Fashion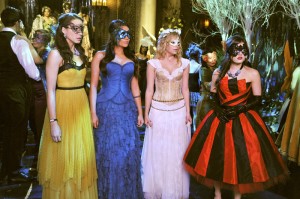 "Pretty Little Liars" girls always have a way of looking their best. I am amazed by the way that they dress and the gorgeous dresses that we see on the show. Do you have a favorite outfit from the show?
During season 2 of "Pretty Little Liars," they had a great episode called "Unmasked." The girls went to a masquerade ball and looked great. Lucy Hale as Aria Montgomery had to be my favorite dress. She has on a red and black dress that shows off her figure. It is tight at the waist and then flows out making her look gorgeous. What do you think of her dress? Sound off in the comments below.
You can watch new episodes of "Pretty Little Liars" on Tuesdays at 8/7 central on ABC Family each week. You can also buy season 2 on DVD.
"I have been hired by Warner Bros WBWord division to raise awareness for Pretty Little Liars."