My SisterWifes Closet Website Launches for Stars of 'Sister Wives'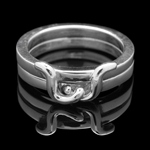 Tonight fans got to see the season finale of "Sister Wives." This episode showed the Brown family looking over the stuff for their new business My SisterWifes Closet. This new business is a great opportunity for the Brown family.
You can check out the website My SisterWifes Closet. This site already features jewelry for sale. This site has a great variety up already and they are planning to add in accessories and clothing later.
If you want to purchase their items, you can check them out on the website. The items are already ready to order. They talked on the show about the fact that the jewelry is not just for women that have Sister Wives, but it also for strong women. On Twitter, Meri even discussed with a fan that these rings would be great for a mother and a daughter. The jewelry on My SisterWifes Closet is there for every woman.
The season finale of "Sister Wives" aired tonight on TLC.
On Dec. 16, the site went down for a bit because of high views with the airing of a new episode. Check out more about it on Examiner.