Purex Crystals for Baby Review and Contest
I love Purex! I don't have babies at home anymore, but I do have children with allergies. I was glad to check out the Purex Crystals for baby. These are just like the other crystals from Purex. If you have a front loading washer like me, you just throw them into the the washer with the laundry.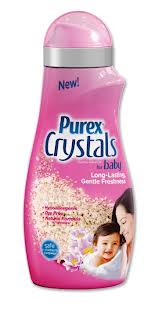 I was a bit nervous when I opened the bottle and it had a bit of a strong smell. I went ahead and washed the clothes with it and I was very excited to smell them when they came out of the dryer. They only had a small scent which was perfect. It was not overwhelming but made the clothes smell good.
I love that it is hypoallergenic and dye free. It is even 87% natural.
These will be available to buy at Wal-Mart starting in February. If you want to try them, enter the contest below to win a free bottle. I will be giving away three coupons for free bottles.
*Disclaimer: I am a Purex Insider and got to sample a bottle of Purex Crystals for Baby for free. All opinions expressed are my own.