Chris Young at Riverwind Casino on March 9, 2013
Last night I got the chance to go and see Chris Young in concert at the Riverwind in Norman, Oklahoma. This is the sixth time I have seen Chris and he never disappoints. He is amazing! Here are some great short videos from the concert. Chris killed it and I can't wait to see him again!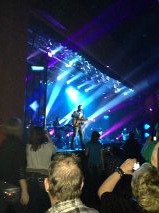 This is "I Can Take It From There." This should be his next #1 hit so make sure you are requesting it!
This clip is from the song "Man I Want to Be."
As a military wife, his song "The Dashboard" has a lot of meaning to me. It's a great one!
Fans of Chris know that he loves Keith Whitley and he does a great job performing his music. This is "When You Say Nothing at All."
I fell in love with Chris Young and his music when he was on the show "Nashville Star." Check out this video for his song "Drinking Me Lonely" which was his first release.