Game Day Rice Krispie Treats for Football Season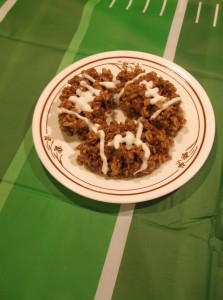 These football game day rice krispie treats are perfect if you are hosting a game day party! They are not only super easy to make, but delicious too! They put a chocolate spin on the old-fashioned rice krispie treats! I couldn't keep the family away from these delicious snacks! How great is a treat that you don't have to bake at all!? Let's get started!!!
Money Spent: about $5
Time spent: Total one hour
Supplies: Cocoa Krispies (paid $2.39 at Target), marshmallows (paid $1.25 at Target), butter (already had on hand), and frosting (paid $1.59 at Target)
Procedure:
-First, you need to take 3 tablespoons of butter and put it in a small bowl and microwave it for 45 seconds or just until it is melted, whichever one comes first!
-Next, you need to put your marshmallows in a microwave safe bowl (you need about 40 regular sized marshmallows) and pour the melted butter over the marshmallows, stir it up a bit ensuring that the marshmallows are covered by the butter! Put in the microwave for a minute and a half, stir after the first 45 seconds!
-Now, after you have stirred and melted the marshmallows and butter together, make sure you have a nice smooth mixture, add the rice krispies RIGHT AWAY and mix together until fully saturated. I personally chose to add the rice krispies little by little so it wasn't too much going on at one time!
-When you're done with that, this is the easiest part! get a 13×9 in pan and spread the mixture into the pan!
-Allow your yummy treats to cool completely!
-Now, I cut my treats into squares, to begin with, and then turned them into footballs by trying my best to cut out a football shape! You could also buy a football-shaped cookie cutter and cut them this way!
-Last step, take your frosting and make the lines going around the "ball" as well as the stitching in the middle! I chose to buy a frosting that has a decorating tip so that it would be easier for me to draw these lines!
-Now just kidding, this is the last step, EAT UP!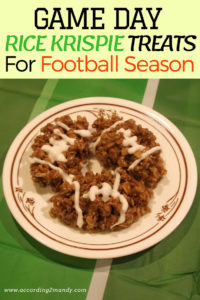 These treats are SOOOO good, you won't be able to put them down! Keep them away from dieters! Lol
I hope you all enjoy making your yummy football game day treats! I sure did!