Thanksgiving Turkey Fruit and Veggie Trays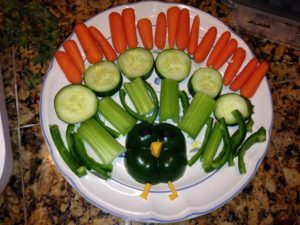 This year for Thanksgiving we wanted to have something healthy to go along with our meal. We decided to make our own fruit and veggie trays that look like a turkey. They turned out great and looked adorable. My daughters even helped me make them.
You can obviously see how we did most of it. The bodies of the trays are made out of half of a pear and the bottom part of a green pepper. We used cheese for the beak and the feet. We decided on black olives and blueberries for the eyes on the birds.
These are a great idea for Thanksgiving at your house. It helps make sure that you have something healthy to offer, looks great, and is something the kids can help make. I can't think of better reasons to make these Thanksgiving fruit and veggie trays out your house! Let me know if you try something different because I would love to hear it in the comments below.