Get to know John Rocker from 'Survivor: San Juan del Sur — Blood vs. Water'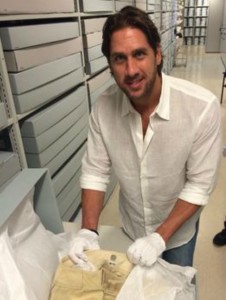 Retired American Major League Baseball relief pitcher John Rocker will be appearing on "Survivor: San Juan del Sur — Blood vs. Water." He will be teamed up with his girlfriend Julie McGee. The Emmy Award-winning series returns for its 27th season with a special 90 minute premiere on Wednesday, Sept. 24 8/7c.
Fans will love to hate John Rocker. He made a hate speech years ago that pretty much made him a household name. This speech was all about living in New York City. He played for the Atlanta Braves. You can read what he said in my article on Examiner.
Get to know John Rocker with these fast facts:
He was born October 17, 1974 in Statesboro Georgia.
He attended Mercer University and received a baseball scholarship from the University of Georgia.
He played for the Atlanta Braves(1998-2001), Cleveland Indians(2001), Texas Rangers(2002), and the Tampa Bay Devil Rays(2003).
He attempted a comeback to baseball with the Long Island Ducks in 2005.
He threw left-handed and batted right-handed.
Caught backlash for a controversial article published in the December 27, 1999 issue of Sports Illustrated.
Starred in 2002 horror comedy The Greenskeeper.
In 2006 he appeared on the Spike TV network's "Pros vs. Joes", a program that pits retired professional athletes against amateurs.
In December 2011 he released his autobiography, Scars and Strikes.
As of 2013, he is director of public affairs for Save Homeless Veterans.
His hobbies include hunting, fishing and golfing.
His pet peeves are rude, lazy, selfish people and traffic.
When asked what 3 things he would have on the island if he could he said 1)Vodka 2)Toothbrush 3)Razor.
Does Rocker's athletic ability give him an advantage? He thinks that spending more than a decade of his life physically competing at the highest level and possessing a high quality of outdoor survival skills will give him the edge he needs to be a contender to be the sole survivor.
Don't forget to tune in Wednesday September 24th at 8/7c to see how John along with all the other contestants do on the new season.