Teresa Giudice is Afraid People Will Think She is a Bad Mom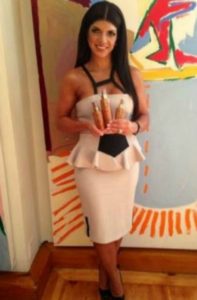 Teresa Guidice is the mom of four young girls. Back in 2013, Radar Online reported that this star of "The Real Housewives of New Jersey" has huge fears that she will be looked at like a bad mom.
Everyone is used to watching Teresa argue with the other women on the show and that doesn't bother her. The idea of being looked at like a bad mother though really upsets the reality TV star. This was all before she was being sent to prison so of course it might be even worse now.
Teresa did talk to her daughter Gia about some of their family drama that is going on and now she thinks that looks bad on her. The show "RHONJ" let everyone see her discussion with Gia all about her drama with Melissa and Joe Gorga.
Teresa did discuss her family troubles with Gia, but of course her daughter also has the Internet. She has to see what is going on and also read about it online. There is no reason that she should try to keep it from her since she already knows the truth. It is probably best that she hears about it from her mom, but she should probably keep her out of it. Don't miss new episodes of "RHONJ."