'Married at First Sight' Speculation: Could Jamie Otis be Pregnant?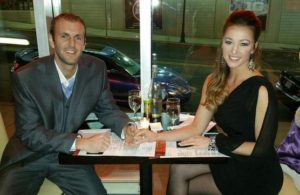 Tonight was the first episode of "Married at First Sight: The First Year." At the end of the show, Jamie Otis and Doug Hehner were talking about babies. During the preview for the rest of the season, Doug made a comment about Jamie having a bun in the oven but now everyone wants to know if it was true or not.
After searching all over Jamie and Doug's posts, it is really hard to tell if she is pregnant or not. Jamie did buy fertility tests but that doesn't mean that she used them. One photo from New Year's shows them out at dinner. Jamie has on a gorgeous black dress and if she is pregnant she would not be very far along judging by the pictures.
One other thing in the picture that makes me wonder is that Jamie looks like she might have a glass of wine next to her. It could be something other than wine in her glass though. My bet would be on no baby yet, but Jamie wants one soon so expect a "Married at First Sight" baby sooner than later. What do you think? Share in the comments!