Did Jessa Duggar Seewald Have Her Baby Yet? Star Poses for New Picture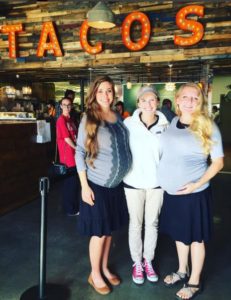 Fans of "19 Kids and Counting" can't wait to hear that Jessa Duggar Seewald has given birth to her first baby. Now fans are waiting on her to share the news, but it turns out that today was not the day for Jessa to have her baby. She went to her Instagram page to share a photo and Jessa is still very pregnant.
Along with this picture, Jessa shared the caption "40 weeks 2 days
Wow, @sierrajodominguez! We're big. 😂 & sweet lil' Kristen is sandwiched in the middle. 😊
@tacos4lifegrill, the tacos were fantastic! 😋" It looks like it could be any day now that Jessa has her baby, but that little one is holding out!
Jessa Duggar Seewald and her sister Jill Dillard will be returning to TLC in December for 3 specials focusing on their lives now. Viewers can't wait to see the girls on television once again, but until then the best way to keep up with them is their social networks.