Jessa Duggar Seewald Holds New Baby in Hospital Bed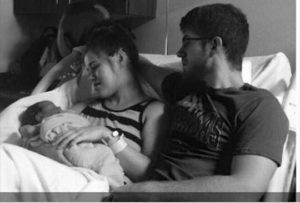 News came out today that Jessa Duggar Seewald had her first baby. It was a little boy, but the couple hasn't shared the name yet. Not long after, TMZ shared that Jessa actually had to go to the hospital to have her little boy and an ambulance took her from the house. A lot of fans were confused by this news because the family has been sharing pictures of the little boy at home. You can read all about it in my article on Inquistr.
Now a new picture is being shared on Facebook that shows Jessa and Ben holding their little boy in a hospital bed. They look great holding their sweet baby boy. So far Jessa and Ben are not sharing why they had to go to the hospital, but this pic shows that the two were there. Hopefully all is well with these two. Don't miss the big TLC specials about Jill and Jessa starting in December.