Halloween Movies You Don't Want To Miss This Year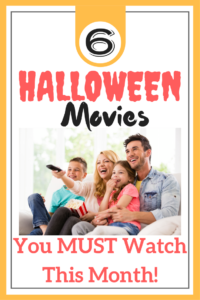 Halloween movies have officially taken over a few television stations and Netflix already. Here are the ones you absolutely must watch this Halloween season!
"Halloweentown" No list of Halloween movies would be complete without including this original Disney classic and its two sequels. The original film follows 13-year-old Marnie as she discovers the true reason her family has always avoided celebrating Halloween, discovers her own powers and pays a visit to Halloweentown with her grandmother. It's a family-friendly favorite and is the perfect series to marathon during a Halloween sleepover.
"Hocus Pocus" "Hocus Pocus" may be the most-played Halloween movie on television, but it's beloved for a reason – it's hysterically entertaining full of witty jokes and black cats. In the movie, three sisters are accidentally conjured 300 years into the future from 17th-century Salem, Massachusetts where they were hung for witchcraft by a few kids. They attempt to reclaim their youth by bewitching the entire town – which, of course, doesn't quite go as planned.
"Addams Family" "The Addams Family" might hold the title for most-loved creepy family, and while their story is not directly influenced by Halloween, the spooky (and kooky) plotline and family makes it perfect for the season. As an outsider attempts to work his way into the family and uncovers some of the dark magic hidden within the home, the Addams Family struggles to live in the outside world when they're kicked out of their house. There is also a sequel for those who love movie marathons.
"Monsters Inc." Though technically not a true Halloween film (and it's a great movie year-round), October offers the perfect excuse to watch (or rewatch) "Monsters Inc." After all, at Monsters Inc., the most important thing is scaring kids. As Mike and Sulley are arguably the cutest monsters of all, this is one Halloween film perfect for younger viewers as well.
"Corpse Bride" Nothing like a little Johnny Depp to get you in the Halloween spirit. This animated movie follows Victor (voice of Johnny Depp) as he accidentally marries a corpse bride instead of his intended wife and then must choose between the two. Part romance, part spooky, 100% worth watching.
"Casper" It's not Halloween without a visit from the friendliest, cutest ghost in town – Casper. Kat and her dad arrive at Whipstaff Manor to exorcise the house from its pesky haunters – Casper and his uncles, the Ghostly Trio – but that doesn't quite work out as Casper and Kat form an unlikely friendship. It's a hysterical action-packed movie for the whole family.
Whether you're looking for a fun family night in or a movie to play while carving pumpkins, one of these is sure to fit the bill. Don't miss these great Halloween movies this year.
[Image via Wikimedia Commons]