Don't Miss These Spooky Halloween Stories For Your Grade School Kid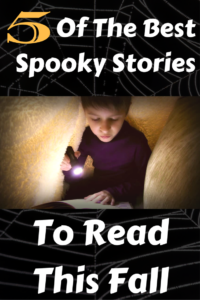 With Halloween just a few weeks away, it is the spookiest month of the year. This has kids ready to be scared a bit, but not so much that they won't go out trick or treating. If you have a child in grade school, here are some great Halloween books for them. Encourage reading this fall with any of those spooky stories.
"Goosebumps" series by R.L. Stine "Goosebumps" is the longest-running series of spooky tales for students. Aimed at ages 8 and up, each book is a standalone (with a few that run together in a collection) and tells a story that's spooky enough to inspire some goosebumps but not enough that lights need be kept on all night. There are 62 books in the original series with several spin-off series as well.
"Beware" by R.L. Stine "Beware" is a collection of 23 spooky short stories from various authors, from Ray Bradbury to Shel Silverstein, selected by R.L. Stine himself. Perfect for readers with short attention spans or that just like to enough a half an hour or so of reading before bed.
"The Witches" by Roald Dahl Roald Dahl is best known for the classics "Charlie and the Chocolate Factory" and "Matilda," but "The Witches" is another of his masterful must-reads. It's inspired by his childhood when his grandmother taught him to spot witches. The narrator listens as Grandmamma tells tales of witches – who hate nothing more than children – and eventually meets a true witch himself.
"Coraline" by Neil Gaiman In "Coraline," the novel that the 2009 film released is based on, Coraline is exploring her new home when she finds a secret door, one that leads to a completely different home with a family that wants her to stay and never go home. She has to fight her way out of this new life and back to her old self.
"Miss Peregrine's Home for Peculiar Children" by Ransom Riggs With the movie just hitting theaters (and hitting the top of the box office), "Miss Peregrine's Home for Peculiar Children" is a definite spooky must-read. Jacob discovers the ruins of a crumbling home when wandering through a deserted island and, as he explores, he realizes that more than ordinary children lived here – in fact, they may still be living here. It's a unique story told in a combination of prose and old photographs, making it an excellent read for reluctant readers.
Whether your child is looking for something straight-up spooky (goosebump-inducing, even) or a curious tale of witches, these novels are sure to entertain this fall.
[Image via Wikimedia Commons]