Ways To Save Money On a Trip to Great Wolf Lodge
Great Wolf Lodge is a great place to take your family on a trip, but it can be a bit expensive to go there. If you want to take this trip, there are still ways that it can be done on a budget. Use these great tips to save money on your trip to Great Wolf Lodge.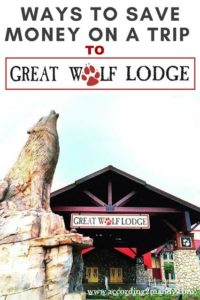 Here are great ways to save:
Check out Groupon. They offer great deals on two-night stays at Great Wolf Lodge all the time.
Use coupon codes when you book online. They always offer a military discount and also offer other savings throughout the year to make your trip affordable.
Take your own drinks. It can get really expensive to buy soda and water all day long. They charge $2.50 for the bottles of water in the room. Each room has a refrigerator, and you can take your own drinks with you. Head back to your room anytime you want a drink. You can't take your own into the water park, but you can drink them around the park while doing MagiQuest or going to the arcade.
You can take your own breakfast as well. Breakfast out to eat is expensive. Consider taking Pop Tarts or mini muffins to have in your room so you can enjoy a more expensive dinner out. You will also want to pack a few of your own snacks.
Share meals at the water park. We each ordered our own meal at the water park, and it was way too much food. A chicken strip meal comes with five strips and fries. One of these meals would easily feed two children.
If you plan to drink alcohol, take your own with you in your bag. You can mix it up in the room. Cocktails are really expensive here.
Don't plan to buy swimsuits, goggles, etc. at the park. Buy these ahead of time and bring with you or even hit up a nearby Wal-Mart. They are expensive at the park and most of them don't even have a Great Wolf logo on them.
If you use these tips, you can make a trip to Great Wolf Lodge affordable for your family. Your kids will love the experience! Great Wolf is an amazing indoor water park and well worth the trip! Let me know your tips in the comments below.
[Image Via Facebook]