What Is the Carnival HUB App and Is It Worth It?
We recently went on a Carnival cruise, and this was the first ship we have ever been on that had the Carnival HUB App. I was excited to try it out, and I have to say that this app did not disappoint! The Carnival HUB App is free and for a charge of just $5 you can add chat where you can talk to other people on the cruise in text. This was worth every penny!
One of my favorite things about this new app is that it shows you what is going on all day long. You still get the Fun Times in your room each night, but you don't have to carry the paper around to see what events are happening on the ship. You can simply pull up the app and see what is going on, where is open to eat and more. It also shows you how much money you have spent and a map of the ship.
When it comes to using the Carnival HUB App, you don't have to pay anything for it and don't need the Internet. It works on the boat. If you want the chat option, you will have to pay the $5, but that is for the entire week and worth it.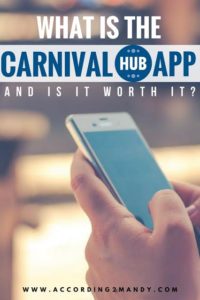 There is one issue that I have with the Carnival HUB App, and that is that it is not available on every ship yet. They are slowly adding it to new ships, and I hope that Carnival will have it on every ship soon! If you are on a cruise with the Carnival HUB App, make sure that you download it and use it for your trip!
Disclaimer: As of right now, you can only get the Carnival HUB App on board the Carnival Breeze, Carnival Conquest, Carnival Ecstasy, Carnival Elation, Carnival Fantasy, Carnival Freedom, Carnival Glory, Carnival Imagination, Carnival Inspiration, Carnival Magic, Carnival Miracle, Carnival Paradise, Carnival Pride, Carnival Sensation, Carnival Splendor, Carnival Sunshine, Carnival Triumph, Carnival Valor, Carnival Victory and Carnival Vista. I received free Internet from Carnival in exchange for my reviews.