Fun At Creative Arts In Enid For the Starry Night Class For Kids
Today I got the chance to take my daughters to the Follow me class called Starry Night at Creative Arts in Enid, Oklahoma. This was a great class that showed them how to draw with chalk pastels on paper. They learned how to smudge the chalk with their fingers to make it look cool. By the time they were done, they had made a picture that looked like the Northern Lights.
For this class, I took two girls that are eight-years-old and my older daughter who is thirteen. This class was perfect for the younger girls, but a bit easy for my older daughter. She still enjoyed trying it out and learning new things. The class had about ten kids in it, so it made it where the instructor was able to help everyone but was still a busy class.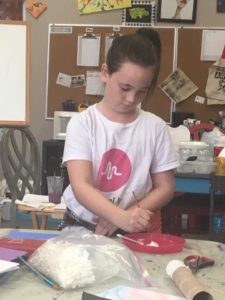 The class started out by showing the kids how to draw with pencil on paper what they would be doing later with chalk. They then moved on to using chalk on the scratch paper to practice before doing their actual project. I loved that the actual project used chalk, but they also used paint for the stars in the background and even cut out the paper trees to glue on the bottom. It was a lot of fun!
Creative Arts describes their follow me classes saying, "Improve basic sketch and art skills with this fun step-by-step drawing and painting class. Projects will include different mediums (acrylics, watercolor, oil pastel, etc.). Follow Me is suitable for ages 6 and up. Each Follow Me class is a new and fun project!" They offer these after school, during breaks and in the summer. You can check out all of their classes available on the Creative Arts Enid website.
Disclaimer: We went to the class for free in exchange for my review, but the opinions here are my own.