The New Rage Is Fidget Spinners: How Can You Order Them Cheap?
Disclaimer: This post includes affiliate links.
If you are around kids at all, you will know that fidget spinners are the latest fad. Everyone loves them and adults and children are both using them. These fidget spinners are used for children with ADHD, anxiety and just for fun. They are something to carry around with you and spin around with your fingers to keep your mind occupied.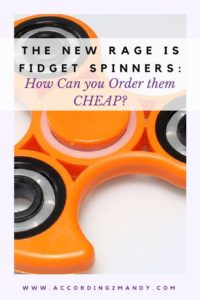 These fidget spinners are hard to find, though! Some specialty stores are carrying them, but they are selling out really fast. If you are looking for great fidget spinners, Amazon might just be the best place to look. They have various spinners that are on sale for a great price! Check these out below if you need a good deal on a fidget spinner.
A lot of these fidget spinners come from China, so they do take a bit to ship. The cheaper ones take a bit longer to get here, but you can still get a great deal without waiting. Check out these fidget spinners from Amazon below that are actually prime, so they get here fast.
Do your kids love fidget spinners? Which ones did you get and where? Sound off in the comments section below!
[Featured Image Via Wikimedia Commons]