Jazz Jennings Gets A Tattoo, Shows It Off
Jazz Jennings of "I Am Jazz" may be under the age of 18, but that didn't stop her from getting a tattoo. She actually went out and got an adorable tattoo and she loves it. Jazz went to her Instagram to share the news and a picture of it.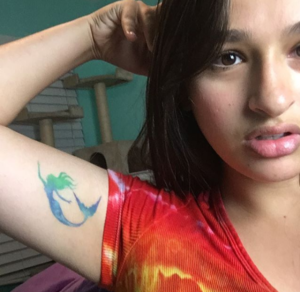 She started off just sharing that she got a tattoo, but then Jazz went on to explain that it is real and that her parents were able to sign for her to get it done early. If you know Jazz, you know how much she loves mermaids and this tattoo isn't surprising at all. This is the perfect tattoo for her.
Some fans are shocked she got a real one, but others are telling her how much they love it. As of right now, Jazz Jennings isn't talking about a new season of the show and the fans really want to see more of Jazz. Hopefully, she will be back in 2018 in new episodes.
So what do you think about Jazz Jennings new tattoo? Are you shocked that her parents let her get it done? Sound off in the comments below on your thoughts and hopefully, a new season of "I Am Jazz" will be coming to TLC soon.
[Featured Image by Instagram]