Check Out America's Incredible Pizza Company In Oklahoma City, Tulsa
We are always looking for fun things to do in Oklahoma City. Incredible Pizza is a blast and for myself just a short drive down Northwest Expressway. They also have one in Tulsa, but we haven't checked that one out yet. They even have an indoor roller coaster in Oklahoma City! Who doesn't want to check that out?
We haven't been since they changed things up recently and we will be heading there again soon! Once we go, you will get a great review of all of the changes. I know my kids are going to love playing indoor miniature golf and the all you can eat pizza.
If you want to check out the Incredible Pizza in your area, use this coupon below for a great deal.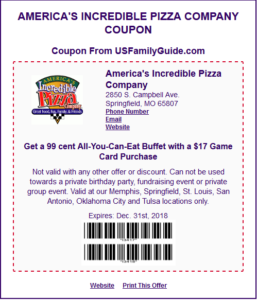 Here is how they explain the facility.
"Fun, Food and Family America's Incredible Pizza Company is the place to find it all! Incredible Pizza Company delivers high energy and a quality experience for the entire family. After enjoying our freshly homemade buffet; enter our world famous Fair Grounds and play over 100 arcade and carnival-style games. Race to the finish line while driving our go-karts, get lost in a friendly game of laser tag, get a hole-in-one while playing glow golf, and spin away on the bumper cars and more! So whether you're 6 or 60, enter our fairgrounds and have an incredible time while making memories that will last a lifetime!"
What is your favorite thing to do at Incredible Pizza? Let me know below!
Disclaimer: This is a sponsored post, but the opinions here are my own.