Jax Taylor, Brittany Cartwright Spark Engagement Rumors
Jax Taylor and Brittany Cartwright are doing great right now and Daily Mail recently shared the news that the rumors are flying that they could be engaged.  The rumors started because of a ring that was seen on Brittany's left-hand ring finger and it does look like an engagement ring.
These two were at a red carpet event at Media Temple SXSW Interactive Bash when the ring was seen on her finger. Jax Taylor was asked about if they could be engaged. He answered saying, "We're having a good time. We're not going to say anything right now." That really does sound like it is possible. Jax isn't totally shooting down the rumors about an engagement.
Brittany Cartwright did admit that she loves the ring.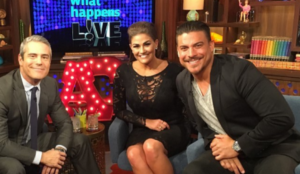 Brittany Cartwright and Jax Taylor have been through a lot lately. This season on "Vanderpump Rules" they showed that Jax cheated on Brittany with Faith Stowers. They were able to work through their issues after all of this, though and it looks like they are stronger than ever.
Do you think that Jax Taylor and Brittany Cartwright are engaged? Do you see these two end up married? Sound off in the comments section below, and don't miss new episodes of "Vanderpump Rules" on Monday nights on Bravo.