Ryan the Banjo Player Is a Front-Runner on 'The Bachelorette' 2018 With Becca Kufrin
On the big "After the Final Rose" special the fans got the chance to meet five of the guys who would compete to win Becca Kufrin's heart. Ryan the banjo player was one of the guys there and seems to be one that the fans liked the best. Elite Daily shared a bit about Ryan so that the fans can get to know him a bit better.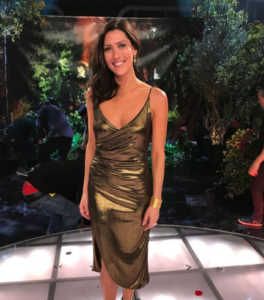 Becca liked Ryan right away, but his song had to help him out a bit. Here is what he sang to her.
That Becca girl, she is awfully pretty.

Is she a country gal or is she from the city?

As for me, I'm from the sea,

And I'm looking for the one to sail away with me.

Who's that girl over there,

In a jazzy dress with her long brown hair.

Troubles behind, we'll start anew,

I'm looking for a love story, too.

So I ask what's the catch?

Well, there's 25 other cats.

But in due time, you will find,

I'm one of, I'm one of, baby I'm one of a kind.
The fans did go pretty crazy on Twitter saying that they were sure that he is the winner already. It is pretty early in the season for everyone to pick who Becca will choose, but it doesn't look like Ryan will be leaving right away. So far, there is not a lot of information out about Ryan, but you know that Reality Steve will be sharing more when he gets it.
Do you think that Ryan the banjo player could be the one to win Becca's heart this season? Sound off in the comments section below on your thoughts, and don't miss "The Bachelorette" with Becca Kufrin when it starts airing on Monday, May 28, 2018.