Justin Blackmon Arrested for DUI Sunday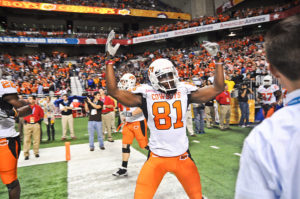 Justin Blackmon may have just thrown away his football career all in one move. According to ESPN, the Jacksonville Jaguars rookie was arrested for DUI on Sunday. He actually had three times the legal limit of alcohol in his system at the time.
Justin Blackmon is known as a first round draft pick with a promising career in the NFL. He used to play for Oklahoma State University in Stillwater. Here is what the Jacksonville Jaguars have said so far:
"We are aware of the report and are gathering information," Jaguars spokesman Dan Edwards said. "We don't have any comment at this time."
Justin Blackmon is saying that he is very sorry and made a mistake. He even apologized to his family and for embarrassing Oklahoma State. The problem is that his apology just might not be enough to save his NFL career. We will have to wait and see what happens in court. Do you think that the Jacksonville Jaguars will keep on Justin Blackmon after his arrest for DUI? Sound off in the comments below!