Lance Armstrong Now Being Sued by the Government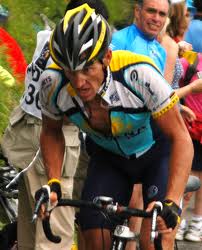 Everybody wants a piece of Lance Armstrong! The Federal Government has added their name to the list of defectors of the former cycling legend. The Justice Department has filed what could be a $100 million lawsuit against Lance Armstrong stating that he was "unduly enriched at the expense" of the United States Postal Service.
Seven time Tour de France winner Armstrong won six of his titles as a part of the USPS Pro Cycling team. The lawsuit, filed April 23rd in U.S. District Court for the District of Columbia, claims that Armstrong received $17 million in sponsorship. The government is seeking to recover three times that amount according to provisions stipulated by the Fair Claims Act. The complaint also claims a breach of contract, referring to Armstrong's use of performance-enhancing drugs.
Armstrong was stripped of his seven Tour de France titles and forced to give back millions in prize money after accusations of his drug use surfaced. In January he admitted to Oprah Winfrey, during a televised interview, that he indeed was guilty. The Justice Department cites that confession in their lawsuit against Armstrong. Joining Armstrong, as co-defendants in the lawsuit, are the USPS team management company Tailwind Sports LLC and former team director Johan Bruyneel.
Lance Armstrong's attorney, Elliot Peters, told ESPN: "The U.S. Postal Service benefited tremendously from its sponsorship of the cycling team. Its own studies repeatedly and conclusively prove this. The USPS was never the victim of fraud. Lance Armstrong rode his heart out for the USPS team and gave the brand tremendous exposure during the sponsorship years."