Michelle Rodriguez to Quit Acting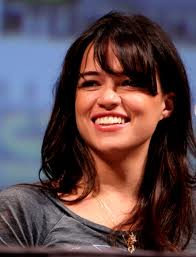 The actress of well-known movies "The Fast and the Furious" (2001),"Avatar" (2009), and many other Hollywood blockbusters, Michelle Rodriguez is going to announce something very unpleasant to her fans. Yes, she is thinking about the ending of her bright career of an actress, but she is expecting to work behind the camera. She has also hinted about the role that she is going to play in the film industry after she quits acting. Her big plan is to start writing instead of acting.
Michelle says that she has waited 13 years to start doing something like this. Now she already has started to do some work on it. Currently she is working on two screenplays. Rodriguez thinks that the time to say goodbye has arrived. She told that her nature is to hide, so working behind camera is not something that goes against her nature. She also admitted that it is not an easy task to do writing, but she is determined to go for it.
In spite of knowing the painful fact about writing, she is getting ready to accomplish it this time. The 34-year-old superstar's life is composed of many incidents. Most of which are remembered for her aggressive nature and legal issues, but she thinks that the time for her to be in contact with her dreams has come. Writing screenplays were always a big dream of hers. She addressed her aggressive nature as "bad moments" in her life. But Michelle thinks that she is growing in progression, and heading toward the right way. It seems that age has not only slowed her, but also made her wiser.