George Jones House Listed for Sale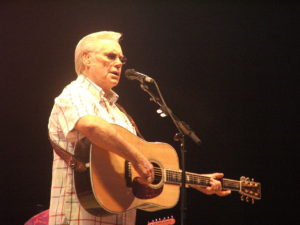 George Jones was much more than a country music singer. He was a superstar, a legend in the genre that has rapidly produced some of the best sounds the ears could hear. Jones thrilled country music fans around the world with hits such as "She Thinks I Still Care," "He Stopped Loving her Today," and "Rockin' Chair."
The legend ended his grand tour of this world on April 26, 2013 at the age of 81. The latest Jones' news now is that just five days after the singers passing news came out about the selling of the singers Franklin, TN home. On the market since 2011, the home has not been able to get any significant offers and has seen drastic price decreases in the past two- years.
Originally listed for $15 million, the home is almost half-price, with a ticket of $8 million. A look at the shows it is located at 4025 Nestledown Lane and offers 80-acres of pristine living. The home features 4-bedrooms and 7.5 baths, as well as several outbuildings and a home totaling more than 9,100 square foot. The Jones' Franklin home was built in 1993. There is plenty more goodness in owning the Jones mansion. The home offers a gated entrance and a private on-site barber shop. The home truly has everything that one could want or know in a home. The fact that the Legend, George Jones, lived in this home makes it an even more desirable home. The price reduction on the home was made in March.
Does it take the death of a legend for the home to sale? Only time will tell. Would you be interested in buying it?