Facts About 'The Bachelor' 2014 Juan Pablo Galavis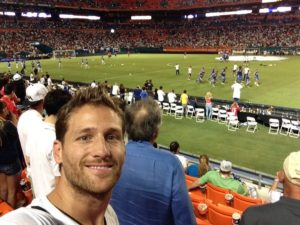 ABC recently announced that Juan Pablo Galavis is the next guy on "The Bachelor" 2014. Fans didn't get to see a lot of him on "The Bachelorette" 2013 with Desiree Hartsock and they want to get to know him better. Here are some great facts about him.
He has a daughter named Camilla. She is the main woman in his life now. This makes him the second single dad to be cast as "The Bachelor."
Even though he did grow up in Venezuela, Juan Pablo was actually born in the United States. He also went to college here.
He is hoping to find a woman that loves adventure, but they also have to love his daughter. This woman is going to be a step-mom to Camilla.
Juan Pablo is 32-years-old.
His career used to be a soccer player, but he retired in 2009. He is actually worth over $1.2 million.
Carla is his ex and the mother of his daughter. They have a great relationship.
"The Bachelor" 2014 will start airing in January on ABC with Juan Pablo Galavis handing out roses.
Sources: http://www.wetpaint.com/the-bachelor/articles/2013-08-07-juan-pablo-5-facts-new-bachelor; http://www.wetpaint.com/the-bachelor/articles/2013-08-07-juan-pablo-galavis-net-worth