Juan Pablo Galavis Hangs Out at Epcot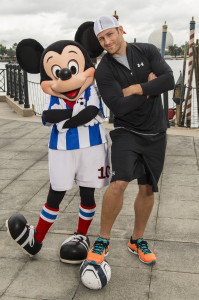 Juan Pablo Galavis of "The Bachelor" 2014 knows how to have a good time and that includes hanging out with Mickey Mouse. He spent some time with Epcot with his little girl Camila Valentina. It is too bad that the girl he picks in the show isn't able to hang out with them because the world can't know who she is yet.
He used to play professional soccer and now Juan Pablo is kicking it with Mickey Mouse. It looks like he has found a pretty good partner to play the game with and enjoy a good time. I would love to spend a day with those two. His daughter has to love getting to go all of these fun places with her dad.
Don't miss "The Bachelor" 2014 when it starts airing on January 5 on ABC. Do you think Juan Pablo will find the girl of his dreams? Sound off in the comments below.
Source: Twitter