Review: All Aboard The Polar Express On The Eastern Flyer In Stillwater, Oklahoma
Today my family got the chance to head to The Polar Express and we had a blast! We went to Stillwater, Oklahoma and got on the Eastern Flyer train for an experience we will never forget. Today I loved seeing Christmas through the eyes of the children. Most of the people on the train wore pajamas just like the movie.
When you get to The Polar Express, you turn in your tickets and the kids all get a golden ticket just like the movie. You board the train, and the dancing chefs help you to find your seat. As the train starts going, the chefs will sing and dance along. They also hold up "The Polar Express" book as it is read over the loudspeaker. Make sure you don't lose your golden ticket because something special will happen later you don't want to miss.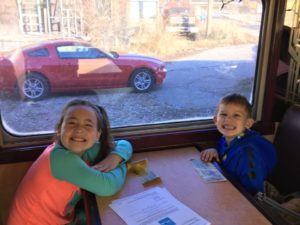 I don't want to ruin it all for you, but you will get to ride the train to the North Pole and back! Don't miss out on seeing Santa and a special gift from him. We got hot cocoa and cookies along the way with the tickets we purchased as well. The only bad thing I can see about this trip on The Polar Express is that I think it would have been better to go at night because the North Pole is light up! The entire trip took about an hour and a half. We had so much fun on The Polar Express!
Have you ever been on The Polar Express? What did you think about it? Sound off in the comments section below and if you want to go in Stillwater you can buy tickets on The Eastern Flyer website.
Disclaimer: We received an upgrade in exchange for this review, but the opinions here are my own.