Check Into Cash For Your Holiday Needs
The holidays are here, and that means money is always tight. I know every year I say that I won't spend a ton on the kids and the next thing I know I am spending a lot of money buying every single thing they want. Well, of course, once you do that something always goes wrong!
Just imagine it, you buy all the kid's presents and then, of course, that is when something breaks on the car. You have to find the money to fix it and fast! This is where Check into Cash comes in and can help save the day. I know I would never want to have to take my children's presents back to the store because I couldn't afford them. Check Into Cash can keep you from having to do that and help save the day.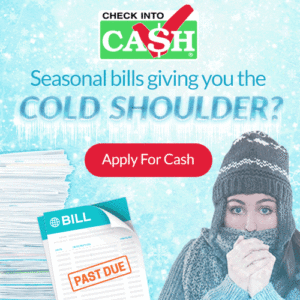 Check Into Cash is great because you can be approved in just minutes, but the rates do vary from state to state. For all new customers, get up to $750 or your states maximum loan amount. Just think if you had $750 that you could use towards fixing the car instead of taking back the Christmas presents. This can change everything for Christmas for your family! You can apply online or at a local store either way. The application online can be done in less than five minutes.
Have you ever used Check Into Cash before? How did they help save you in a bind? Sound off in the comments section below on your thoughts.
"According 2 Mandy is not affiliated with Check into Cash. According 2 Mandy may be compensated for referring you to Check into Cash."