Creative Arts in Enid, Oklahoma for Fun Adult and Children's Classes
When looking for something fun to do in Enid, Oklahoma, you need to check out Creative Arts! This place has fun activities for children and adults both. They have a ton of stuff going on over winter break that will help keep the kids from feeling stir crazy, but also keep you warm while doing an activity with them. Check out all of the upcoming events below.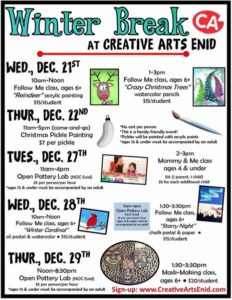 I have taken my daughters a few times, and they loved it. I am excited over Christmas break to check out the "Starry Night" chalk pastel class. I think they are going to have a blast. Creative Arts Enid offers affordable options for all kinds of fun stuff to do with your kids or for a girl's night out.
In January, Creative Arts Enid is even offering a pottery class for children grades 6-12. You sign up for an entire month of classes and get to go once a week. They also have special things for homeschool and after school. You can see everything that Creative Arts Enid has to offer on their website.
Have you ever been to Creative Arts Enid? What is your favorite thing to do there? Sound off in the comments section below on your thoughts.
Disclaimer: This post is in exchange for classes, but the opinions here are my own.