Exclusive Pictures: Jesse and Ann Csincsak Share Pictures of New Baby Carter James Csincsak
Jesse and Ann Csincsak of "The Bachelor" and "The Bachelorette" have welcomed their third baby. The couple had a little boy today, and According 2 Mandy has exclusive pictures to share of their bundle of joy. They named him Carter James Csincsak, after Ann's late father. His name was Brian Carter Lueders.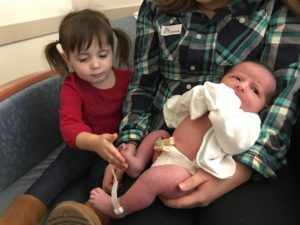 Older brother Noah and sister Charlotte could not be more excited about the little boy. They were ready to meet him, and Jesse shared an adorable picture of them with their new baby brother. Jesse spoke to In Touch about the new baby boy saying, "Ann is nervous and I am excited! Charlotte keeps asking if her baby brother is coming. She can't wait to meet him." Ann shared saying, "2017 is starting out the right way! We are excited for the future and can't wait to see [the couple's two other children] Noah and Charlotte with Carter. It melts my heart to think about it."
Jesse and Ann Csincak could not be happier about their third bundle of joy. These two were on "The Bachelor" and "The Bachelorette," but things didn't work out for them there. Instead, they met each other after the show, and the rest is history.
Don't miss the new season of "The Bachelor" with Nick Viall when it starts airing on January 2 on ABC.