'The Bachelor' 2017: It Turns Out Two Past Contestants Were At Backstreet Boys Date, Who Was it?
Recently fans saw Nick Viall and his girls go on a big date to a Backstreet Boys concerts on "The Bachelor" 2017. Bustle shared the news that it was revealed that two girls that fans know well were also there, but they got kicked off the stage when Nick and the girls showed up.
Bachelor Nation alum Jared Haibon dropped by Bustle's Bachelor podcast and shared the details. He wasn't there, but it turns out his good friend Ashley I was there with Becca Tilley. The girls were even on stage with the Backstreet Boys for part of the time and it looks like the girls loved it!
For some reason, they didn't show this on "The Bachelor, " and everyone would have liked to have seen it. Ashley shared a picture on Instagram when it happened along with the caption "Thank you x 1000 @iHeartTheaterLA & @HondaStage for making this teenage dream come true!! 😍" Personally, I wish they would have shown this part even if it was just for a few minutes.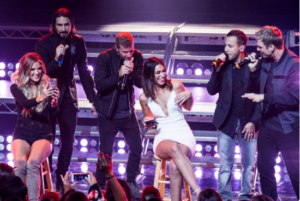 Do you wish that "The Bachelor" 2017 had shown Ashley I and Becca Tilley with the Backstreet Boys? Do you think Nick Viall will find love this season? Sound off in the comments section below on your thoughts.
[Images via Wikimedia Commons, Instagram]