Adventures To Be Had On Big Island, Hawaii
Do you like to adventure? If you do, well I have the perfect place for you! Big Island (Hawaii County), Hawaii. You can even check out trips on Get Away Today!
Many people confuse the island of Hawaii (which is also its county name) for the island of Oahu. Big Island, is the Big Island… because it is BIG! However, people seem to often associate population with big. Yes, Oahu is the most populous island, yet the island itself could fit inside of the Puna District on the Big Island. When you put it in that perspective.. it is very very small!
While Oahu, Maui, Kauai, and the other smaller outlying islands have plenty to do, Big Island is easily the most diverse island when it comes to creating your own adventures. The sheer size of Big Island is reflective of its name. It offers nearly all of the climates of the world as well! That being said, much is unexplored, and there is plenty of room to cut your own path and make an exciting and new adventure for yourself.
Big island has four main locations on the island. The most known location is Kona, followed by Waikoloa, then Hilo, and lastly Hilo. When people visit, they generally hit the major tourist spots, and I can't blame them. However, you are doing a disservice to yourself if you don't rent a car or explore beyond your general area.
One of the more undiscovered and underrated areas is the Puna district. It is located south of Hilo on hwy 130. There is one way in, and one way out.. and the locals like it that way.
The beauty of Puna is the rain. The east side of the island is a rainforest in most places. Hilo is the rainiest place in the United States. Pahoa/Puna not being far from Hilo, are nearly equally as rainy. That also means green lush tropical jungles!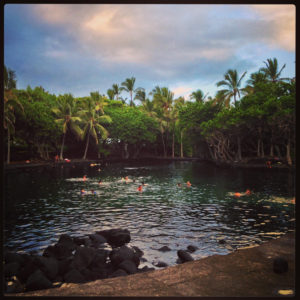 Down in Pohoiki, at the Isaac Hale Beach Park, there is a geothermal heated ocean hot tub. Yes.. a natural hot tub. To find it, which is mostly a hidden secret… you will want to park near the boat launch.
Then skirt around the boat ramp, which boarders private property. There is a small trail along the edge, which leads you directly to the natural hot tub. It fits about ten people and is plenty hot.
Just remember, locals are wonderful people.. but when someone comes into your town and acts or behaves rudely or disrespectfully, you won't be welcomed with open arms.
Another worthy location not far down the road is Ahalanui Park. This is located on Government Beach Road, or as locals call it – Red Road. It was once red cider rock but now paved.
Ahalanui Park is a Geothermal heated ocean pool. Locals call it Hot Pond. There are areas which are much warmer than others, but in general, it feels like a nice warm bathtub. Yet it is nearly the size of an Olympic pool.
Looks Like Paradise
Typically you find locals on the left side and tourists on the right side which has easy entry points. This location is great if you have children. Some areas are 5 feet deep, and when the tide is in, there are areas which can be as deep as 7-8 feet. However, when the tide is out, there are plenty areas where it is only 3 feet deep. Floaty toys and noodles are welcome. In addition, there is a lifeguard there most hours.
Another place which gets overlooked is Kehena Beach. Part of this is due to the fact that it is easy to miss it if you dont know where you are going. The beach sits below a sea cliff, and it is a small hike down the cliff to reach this beach. Saturday's are a locals day, and Sunday's are "Drum Circle" day. This means that there will be a lot of music, chanting, people smoking pakalolo (weed), and in general a hippy spirit. Kehena Beach is a clothing optional beach, and to my knowledge, the only one of the entire island.
While it is not your typical white sand beach, but instead more of a salt and pepper black sand beach, it makes up for it with spinner dolphins playing in the bay. Between sea turtles, beautiful fish, and spinner dolphins.. there is always something to enjoy down there.
You find Kehena Beach on Red Road/Kapoho Kalapana Rd – It is situated between Seaview Estates and Uncle Awa's Kava Bar. It is nestled in a small community with several Yoga retreat areas. You will find a pull out spot to take in the views. To your left is a small trail which takes yo down to the beach.
There is much more to explore in Puna, but I suggest you make your own adventure!
Make sure you check out Heather on Twitter, Instagram and Facebook for her latest travels!
[Image Credit Heather Irwin]