Sleepy Manzanillo Mexico For The Perfect Mellow Vacation
When people think of Mexico, or at least everyone I know.. they think of parties! Late nights in the bars, and fruity concoctions on the beach. While Manzanillo can offer those things out, it is much more mellow that the typical hot spots.
The first time I visited Manzanillo, was in 2004. There were no Americanized stores, no fast food chains, and no corporate chains either. However, there was a massively large expansive beach to explore. The further you walked the more things you would find. Whether it was sand bars, open air markets, a single resort on the edge of town.
Manzanillo has two large bays, and the bay and beach to the north is Playa Miramar, the beach on the south end of town is Playa Azul. In between those two beaches on the peninsula where the Las Hadas Resort sits, is another small beach. There is some slight confusion as to what the beach is called, but many call it Playa Audiencia. This particular beach became famous in the late 1979 when the movie "10" staring Dudley Moore, Bo Derek, and Julie Andrews was released. There is where Bo Derek has her iconic run down the beach in a nude swimsuit.
Oddly enough, despite how popular that made Bo Derek, it did not make the Las Hadas resort or Manzanillo even half as popular. For that, I am grateful, as I prefer to go to places that are a little off the beaten path and not totally commercialized.
Now… fast forward, I went back to Manzanillo and was sad to find a Walmart, Home Depot, Starbucks and some fast food chains. While I admit, it does make life a tad easier at times; it certainly takes away from the charm this fishing town has to offer.
I had learned while there, from some Canadians and a fantastic man named Felipe who owned El Indo Bar, that Manzanillo is a popular destination for the wealthy Mexicans who live inland, and around Mexico City. It is their desired location for vacationing, there along the Mexican Riviera. Canadians seemed to know Manzanillo well, and love to retire down there.. but even after six years, it didn't seem any more popular with the American crowd.
Manzanillo offers great bus transportation. It runs mostly just north and south. You either can get to the resort zone, hotel zone, centro, and Mercado. Mercado is really what I consider the charm and hub of Manzanillo. This is where the buildings are older, and in colorful colors, they make their way up the hillside. This is also where the harbor is located. Their government buildings are down there along with sidewalk cafes. It is absolutely beautiful, and the people are wonderful as well.
I will admit there is not much to be explored into the depths of Manzanillo. The one time we "heard" a rodeo of sorts going on and asked some locals about it, we found ourselves wandering down a dirt road with many vehicles passing us with suspicious eyes. An expat in the back of a truck said "turn around".. my whiskey induced trudging didn't listen and kept walking. They came back, and said, "It is not safe out here, turn around and go back.. trust me". My husband of course at that point was like…. we are going. He didn't like the idea at all, to begin with, but being someone who has spent a lot of time in Mexico (unlike him), and likely wandered in to parts that would typically be unsafe, I never had an issue. I have always believed if you have goodness in your heart and treat people with respect you will get that in return. I know that is probably a naive way to view the world, but it has worked well for me so far. Anyway…. that was the first and last time I went venturing off into the depths of Manzanillo.
When we spoke to Felipe, he explained to us about Mexican Rodeo's and that it probably would not have been a safe place for us to go, having not gone with someone who was local. I chose not to ask anymore, and instead just drink the memory away. Despite that questionable experience, I can't say enough good things about this beautiful city. I feel like it is more of a town, but it does expand inward a good amount with quite a bit of residential areas.
Manzanillo has an Iguana Sanctuary (which I didn't know about the first time!), a lot of great dining – pretty much EVERYWHERE, snorkeling, ATV tours, Sport Fishing (we caught a huge Sail Fish, but I drank too many beers to remember to take a pictures, oops), and Volcano Tours (yes the volcano's are still technically active).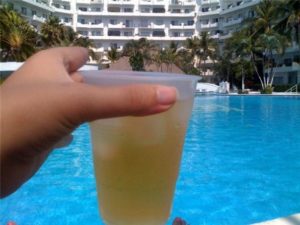 Part of what I found most engaging about Manzanillo, is the surrounding areas. If you cross the board from Colima into Jalisco, you first reach Cihuatlan which is a bustling little town that is slightly hard to navigate. Once you make it through, continue up the road, and eventually, you'll make a left to Barre De Navidad. We stumbled across this cobblestone beachside town and fell in love.
Barre De Navidad claims to have 7000 residents, most of which are in outlying areas and on farms. It is a small farming and fishing village, and it will absolutely win your heart over with its abundance of charm. It is so very authentic, and while it seems plenty of tourists find their way through via tour buses, it is simply amazing. You can also take a panga over to Isla De Navidad, where the Grand Bay Resort sits. Its really a beautiful place, and I love that you take a boat to get there. I do believe there is a long road around… but who wants to do that!
Its neighbor town is Melaque, which is also known as San Patricio. It is pretty similar to Barre De Navidad. Personally, I feel like it has less charm, but it is charming in its own right. It does have a lovely town square and plenty of markets to explore and find treasures.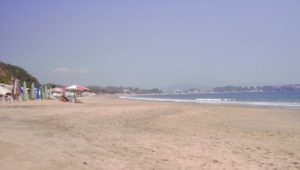 Just a tad further up the road is another wonderful fishing village called La Manzanilla, and this is yet another off the beaten path town that is loaded full of charm. La Manzanilla has roughly 2000 residents, so it really is pretty small. While there really is not a whole lot to do, it is fun strolling the streets and checking out the small shops. It is truly a sleepy little town, and if you really want to get away from it all, yet only be about 15 minutes to an hour away from more action, this is your place. You can go on Lagoon Tours where you go through the mangroves of La Manzanilla that is home to many crocodiles. La Manzanilla really tips its hat towards the art community, so stroll through town and check out all the really cool art.
If you are feeling extra adventurous, take a bit longer drive to the south and visit the capitol of Colima, which is Colima known as The City of Palms. Colima has been ranked to be very safe for residents and tourist alike. The cities center is the plaza with arches and architecture for those to admire. Colima is known for taking their time. Everything about it is slow. People move slowly, taking time to truly enjoy the beauty around them, and you won't be finding any fast food either. Parks and architecture aside, their deep historical roots also host El Chanal and La Campana, which is Colima's most famous archaeological sites.
In the event you like to explore, heading north or south about an hour will lead you on various adventures and delicious places to eat in every single direction. Colima the state itself seems to offer a slower pace as a whole, and no really big cities. Everything feels local, and it is refreshing! If you are looking for a new place to visit in Mexico, and perhaps a place where you can avoid the hoards of tourist… Manzanillo and the state of Colima should totally the next place you visit!
Make sure you check out Heather on Twitter, Instagram and Facebook for her latest travels!
[Image Credit Heather Irwin]