Review: Sex Tips For Straight Women From a Gay Man in Vegas With Scheana Marie Shay
Disclaimer: According 2 Mandy received free tickets to the show, but my opinions are my own.
When I recently found out I was going to be in Las Vegas, I knew that I wanted to see Scheana Marie Shay in her show "Sex Tips for Straight Women From a Gay Man." I already knew about the show from Scheana talking about it and also from seeing it on Kendra On Top when Kendra Wilkinson was the lead. The show now stars Scheana Marie Shay as Robyn, Chester Lockhart of MTV's show "TODRICK" as Dan and Chris Hodgson as Stefan.
This show is at the Paris Las Vegas Hotel right on the strip in Las Vegas. Once entering the casino, you simply follow the signs to get to the show. It was in a smaller venue, but I loved this because it gave it a very intimate feel and the cast could interact with the audience easier.
When going in to watch "Sex Tips for Straight Women From a Gay Man," have an open mind. It was a hilarious 80-minute show that had us laughing from start to finish. They do an amazing job of interacting with the audience and even pulled several people up on stage to be part of the show. If you get offended easily, this is not the show for you. I didn't know who Chester Lockhart was before the show and now I am a fan! They couldn't have found a better fit for his part.
After the show, we got a chance to do a quick Meet and Greet with the cast of "Sex Tips for Straight Women From a Gay Man." We spoke to the cast very briefly and then took a picture. It is $20 to purchase this if you want it, but who wouldn't want their picture with the cast?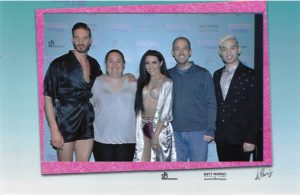 Without spoiling the show for you, at the start, Scheana Marie Shay shows off her acting skills as a woman who is a bit shy and then at one point you get to see the sexy, sensual side of Scheana that everyone knows and loves. You do not want to miss out on your chance to see Scheana Marie in "Sex Tips for Straight Women from a Gay Man" at the Paris Las Vegas Hotel.